Posticum - A place of Meetings
"There is a beautiful, life-giving oasis in Oradea. It is called Posticum."

Csaba Böjte OFM
Posticum is a centre for spirituality, culture and dialogue based in Oradea, Romania. Opened in the year 2000, Posticum also features a guesthouse of 20 rooms. Not only geographically, but also in the cultural and spiritual sense, it lies at borders. Through our special position, we aim to play a mediating role between nations, cultures, religions and social groups.
Centre for spirituality, culture and dialogue
SPIRITUALITY
Posticum regularly hosts retreats and other spiritual events. In recent years we have had the privilege to welcome here the Swiss Jesuit and Zen master Niklaus Brantschen, Japanese Zen master Shodo Harada roshi and his Hungarian disciple István "Taikyo" Szaladják, Japan-based American Zen teacher Jeff Shore, the "dancing Jesuit" from India, Saju George, the Hungarian Jesuit contemplative Péter Mustó, and Eszter Tariska, a Christian meditation teacher based in Debrecen (Hungary), among others. Besides retreats, Posticum offers spaces for local groups regularly practicing Christian contemplation, Zen, and Yoga. Within the walls of our chapel, all these spiritual paths have their place, peacefully practiced side by side, and supporting each other.
CULTURE
Since its opening in the year 2000, Posticum has been enriching Oradea's cultural life with a number of programmes, including exhibitions, classical music workshops and jazz concerts. Almost all major figures of the contemporary jazz scene in Hungary and Romania appeared on our stage: Elemér Balázs, Béla Szakcsi-Lakatos, György Vukán, Pedro Negrescu, Mircea Tiberian, Harry Tavitian and Marius Pop, among others. Posticum's chapel and lounge have been hosting several art exhibitions, including that of Gábor Karátson and László Balázs. Literary readings and book presentations also take place in these beautiful spaces.
CHARITY AND CHILDREN'S PROGRAMMES
Supporting people in need – be that financial hardship or mental/physical disabilities – has been important to us from the beginning. Egalitas Restaurant, one of our programmes running for years now, involves people living with Down syndrome who cook and serve a meal for healthy people. In another programme, also started years ago, we collect good-quality second-hand schoolbags in Switzerland, take them to Romania, and donate them to local schoolkids whose families could not afford to buy one.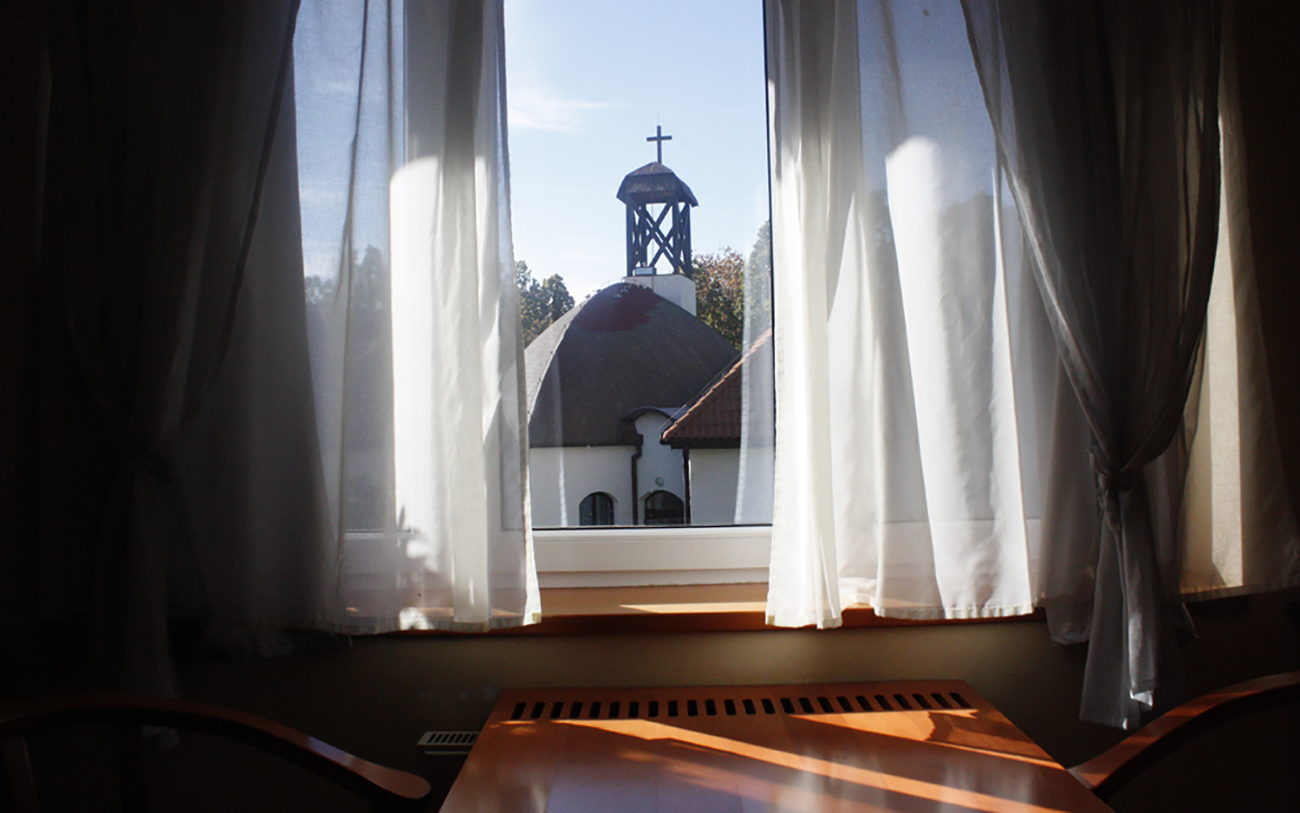 Posticum offers nicely arranged, bright, air-conditioned rooms with 1 to 4 beds. The guesthouse is located in a quiet, green district of Oradea close to the city centre, providing free parking space to its guests. Enjoy evenings on our open terrace and delicious meals in our restaurant! You may also wish to join the meditation and Yoga sessions in the chapel, or take part in one of our cultural programmes.
Oradea's rich history, stunning Secession palaces, vibrant theatre and music life may also be a magnet to tourists. If you would like to relax, famous spas are awaiting you around the city, or try Oradea's great aquapark, the Nymphaea. If you are coming with kids, don't miss the zoo, either!
For further details and booking please visit the following website: www.thezenhostel.com. We hope to see you soon!
Rental of venues and catering
Posticum offers several venues for rental for programmes such as conferences, workshops and meetings.
In Oradea, Posticum is the only guesthouse that has a chapel. Thus, it is an excellent choice for weddings, baptisms, spiritual retreats and other events that require a sacred space. The unique architecture of the chapel is complemented by the majesty of a 19th-century organ.
Our restaurant's interior design is the work of architect and furniture designer Attila Kertész from Budapest. The furniture were made by Oradean master joiner János Korenyák. The restaurant can be rented for festive lunches and dinners, meetings of family or friends, wine tastings and similar events. The quality of Posticum's catering service is guaranteed by our experienced cooks and the healthy ingredients preferably coming from local small producers.
RENTAL PRICES OF GREATER HALLS
(aula magna, chapel, restaurant, Jazzland)
for up to 40 people
20€ / hour
for 40-50 people
30€ / hour
for 50-100 people
40€ / hour
For further details on rental prices of minor halls and prices of catering please contact us at info@posticum.ro or call us on +40-744-504051. We hope to meet you soon!
József & Rozália Vigh
caretakers
With whom we are cooperating and supporting each other in our missions:
STIFTUNG POSTICUM (Switzerland)
LASSALLE HAUS
(Switzerland)
GYERTYALÁNG FOUNDATION (Hungary)
ARS ET VITA FOUNDATION
(Hungary)
Posticum's farm is situated on a 17-hectare land nearby Oradea. It features a large lake with deep and clean water that offers a perfect refreshment in summertime. Besides swimming, it is also excellent for rowing. On the lakeshore we built a stone labyrinth, also remarkable from a bird's eye view, in August 2020. It is meant to be a place for introspection and reflection, following the ancient tradition of mazes.
The farm's central part is made up of two houses, an outdoor baking oven and an orchard. Currently it is mainly used by our friends and partners, Grund School, for children's camps and other programmes of alternative education. Also, it is open to guests and friends of Posticum, providing an ideal setting from spring till autumn for spiritual retreats, camps, family programmes, wine tastings and other gastro events.
The rest of the farm is occupied by stables hosting a flock of sheep against the backdrop of farmland, giving a countryside atmosphere and a beautiful vista for visitors.

Miniszterelnökség - Egyházi És Nemzetiségi Kapcsolatokért Felelős Államtitkárság